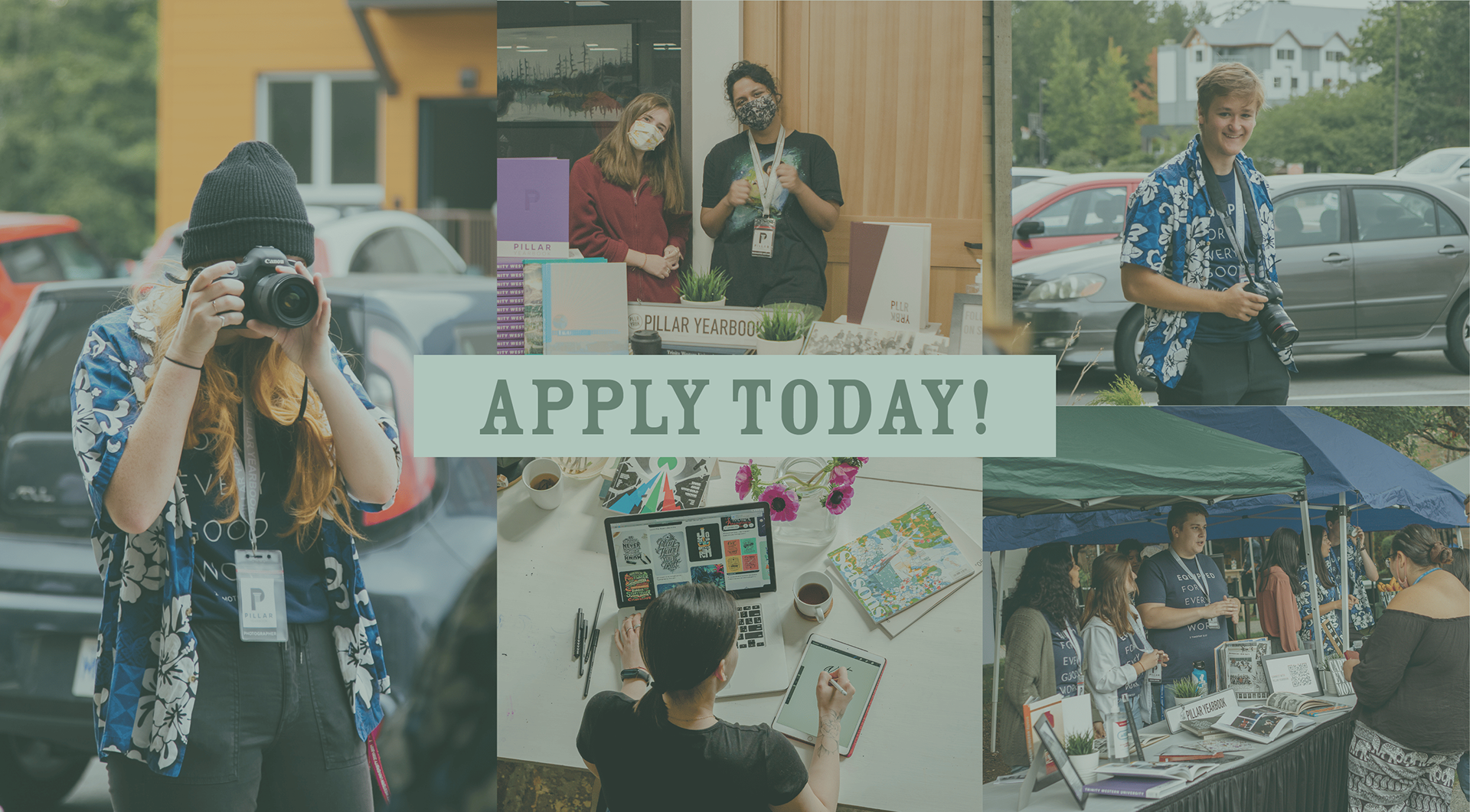 Please note that the scholarships with these positions will range depending on budget for the year. Scholarships typically range from $1000 to $4300.
All team members are expected to attend short weekly meetings, in addition to completing their respective work, unless otherwise stated by the EIC.
Editor-in-Chief
The Editor-in-Chief is responsible for the management, leadership, administration, and overall success of the Pillar Yearbook team and book. They decide the creative vision for the year, along with the visual editor, and work with their team to carry out the plan. The EIC is in charge of hiring their team, selecting individuals who will work well together while creating a book for all of TWU to enjoy. The EIC must be able to delegate well, have great people skills, be very organized, be able to manage a large budget, manage time and deadlines well under pressure, and have a strong grasp of the Adobe Suite, including Illustrator, InDesign, and Photoshop, as well as a working knowledge of Lightroom. Knowledge of photography is an asset, but not required. The EIC is also responsible for coordinating the teams schedule to facilitate weekly or bi-weekly meetings.
Visual Editor
The Visual Editor supports the Editor-in-Chief in the design and creation of the yearbook. They plan and execute the visual vision for the book, including leading on the layout and design of the book, determining what the book will look like, determining tone and style for the year, and photo selection. The Visual Editor must have a very strong understanding of Adobe Illustrator and InDesign, with understanding of Photoshop and Lightroom being an asset. The Visual Editor must be organized and able to meet tight deadlines with sometimes short notice. An ideal candidate will be creative, hard working, able to delegate, organized, and love creating layouts.
Managing Editor
The Managing Editor supports the Editor-in-Chief in the leadership and administration of the Pillar Yearbook team. They help coordinate photographers, schedules, and team events and have, in the past, played a role with layout and design, social media, and/or photography when needed. Should have a working knowledge of design platforms and/or photography. 
Social Media Manager
The Social Media Manager handles all Pillar Yearbook's social media channels (primarily Instagram and Facebook) throughout the year. They are creative with an eye for the latest trends and can harness these skills to promote the yearbook's work with regular posts. They are responsible for uploading event photos to the Pillar website, so must have confidence in using Adobe Portfolio. They are also a professional and mature communicator who can help respond to requests made from the TWU community through social media.
Photographers
The photographers form the core of each year's yearbook team. They are responsible for capturing a year's worth of memories from the TWU community and campus in the photos that will fill the yearbook. Photographers also edit the photos they take to ensure each is of the highest possible quality and matches a theme. As such, they should be familiar with photography, photo-editing principles, Lightroom, and be able to meet deadlines. Photographers must be willing to edit according to the style of the yearbook that year.
Copywriter (optional)
The copywriter writes accurate and engaging copy describing the events presented in and components of the yearbook for an annual volume that is easily understood, even by students, friends, or family less familiar with the happenings of that year. They must be a strong writer with a solid grasp of English grammar and able to meet deadlines.
Creative Assistant (optional)
The creative assistant aids the Visual Editor and Editor-in-Chief with the aesthetic vision of the yearbook. They are responsible for creating layouts for the yearbook, editing photos when needed, and creating graphic design elements. This role is very flexible depending on what the editorial team requires. They are able to meet deadlines and have a strong grasp of the Adobe Suite, including Illustrator, InDesign, and Photoshop, as well as a working knowledge of Lightroom. 
Volunteer Opportunities
Are you someone who wants to dip your toes into the water of Pillar Yearbook? Do you like taking photos, but aren't able to commit to a year-long employment contract? We are always looking for volunteers to help us capture even more memories at every event. Do you want to learn from amazing graphic designers who create for an award winning publication? Our visual team would love to chat with you. Please email pillar.yearbook@gmail.com to connect with our Editor-in-Chief regarding volunteer and learning opportunities.
*note: EIC application must be completed before general applications are completed
Do you have questions about any of these roles? Are you interested in joining for Fall 2023? We would love to connect with you and answer any questions! Send us a DM through our social media or email us at pillar.yearbook@gmail.com
Apply to be on our team with the button above!